QuickReviewer Annual
1 year DEAL
Better creative collaboration and faster approval for videos, PDFs, HTML, and images
QuickReviewer Annual
Better creative collaboration and faster approval for videos, PDFs, HTML, and images
60 day money-back guarantee. Try it out for 2 months to make sure it's right for you!
Disclaimer: The QuickReviewer lifetime offer has ended. However, you can still get yearly access to the Power Plan for the discounted and locked price of $89 per code (retail value: $299).
When you pursue a creative career, no one tells you that you'll spend half your time in endless approval email chains (and the other half explaining why "exposure" doesn't pay the bills).
With conflicting feedback and increasing project versions, the creative review process tends to delay project timelines.
Wouldn't it be nice to easily collect all feedback in one place without tracking emails or multiple versions of large files?
Introducing QuickReviewer.
Share files, add comments, and approve or reject feedback on videos, HTML, PDFs, and images directly from your web browser
Alternative to: PageProof, ReviewStudio, and Ziflow
Compare versions and revisions side by side to ensure all requested changes are made
Overview
QuickReviewer is an online proofing software that enables creative teams to get faster reviews and approvals on videos, PDFs, HTML, and images.
With QuickReviewer, you can get quick and organized feedback on your creative projects without having to hunt down multiple emails or files.
To get started, just upload your file to QuickReviewer and share it with reviewers through email.
The review window lets you add comments, highlight text, zoom in and out, compare previous versions, and see all comments by user or page with each user color-coded for easy distinction.
Everyone who reviews the project can see each other's comments and reply to them, helping you eliminate conflicting feedback.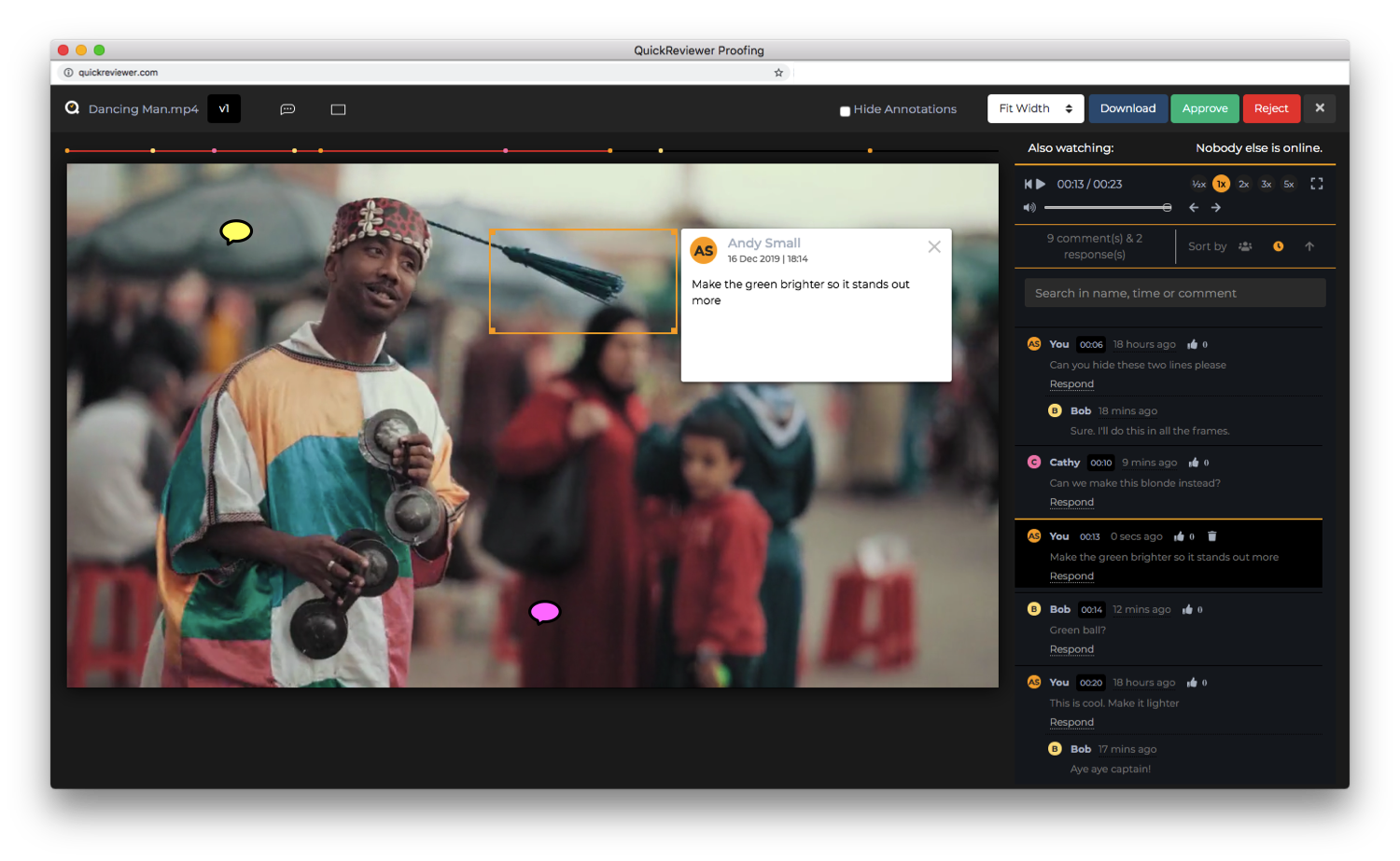 Live collaborative commenting on videos lets you deliver pinpointed feedback in real-time!
Say goodbye to flipping back and forth between versions of a creative project.
QuickReviewer makes it easy to compare different versions or revisions with side-by-side views.
You can lock video timelines or PDF scrolls and ensure that both versions are perfectly in sync as you review.
With the side-by-side view, you can be sure you've addressed all feedback and made all the requested changes.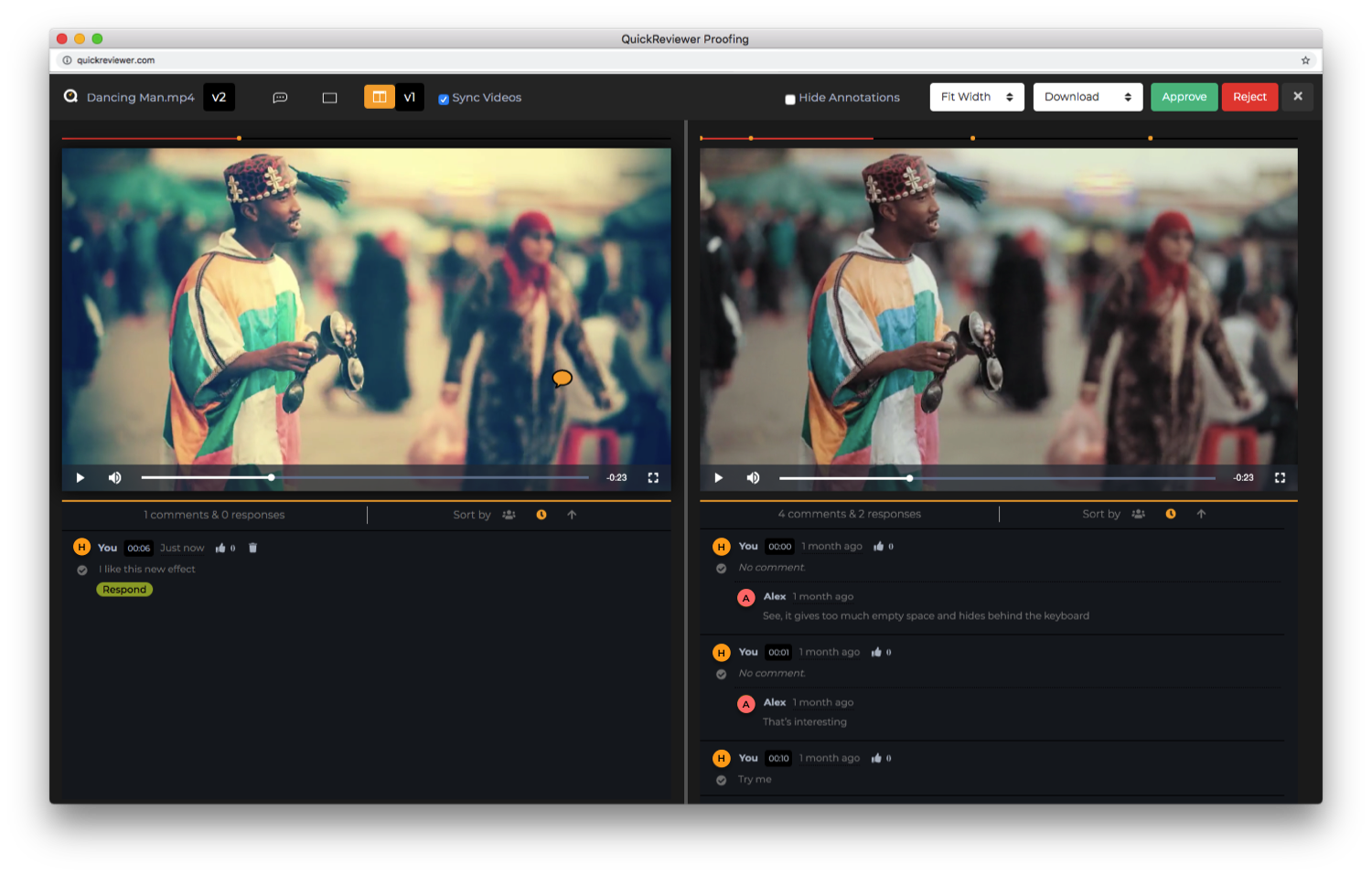 Upload revisions and compare them side by side to make sure you never miss a beat... or an edit!
Mobile-responsive design is no longer a nice-to-have—it's a must-have.
And QuickReviewer makes reviewing mobile design a breeze, allowing you to review HTML banners and responsive web pages in mobile view.
See how the design looks on a variety of different device screens, and leave or receive feedback on the design.
Speaking of effective mobile design… QuickReviewer offers a mobile responsive user interface that allows you to review and approve files right from your mobile device!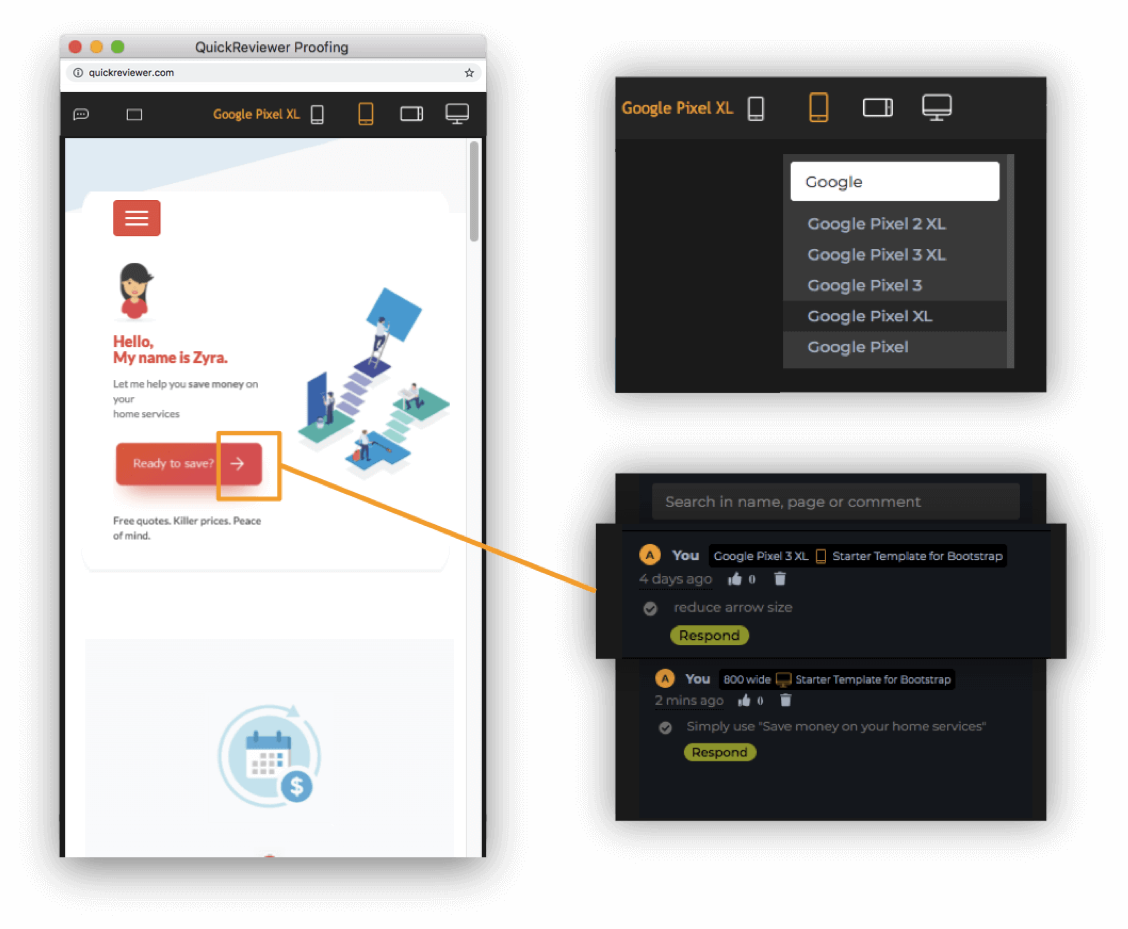 Review HTML banners and responsive web pages in mobile view for a variety of device screens.
And because we're all design nuts here, the ability to white-label the platform is a major plus.
You can white-label QuickReviewer with your logo, personalized email templates, and custom SMTP, so that reviewers get platform notifications from someone they know.
By making the platform match your branding, you can create a seamless experience for reviewers tailored to your business.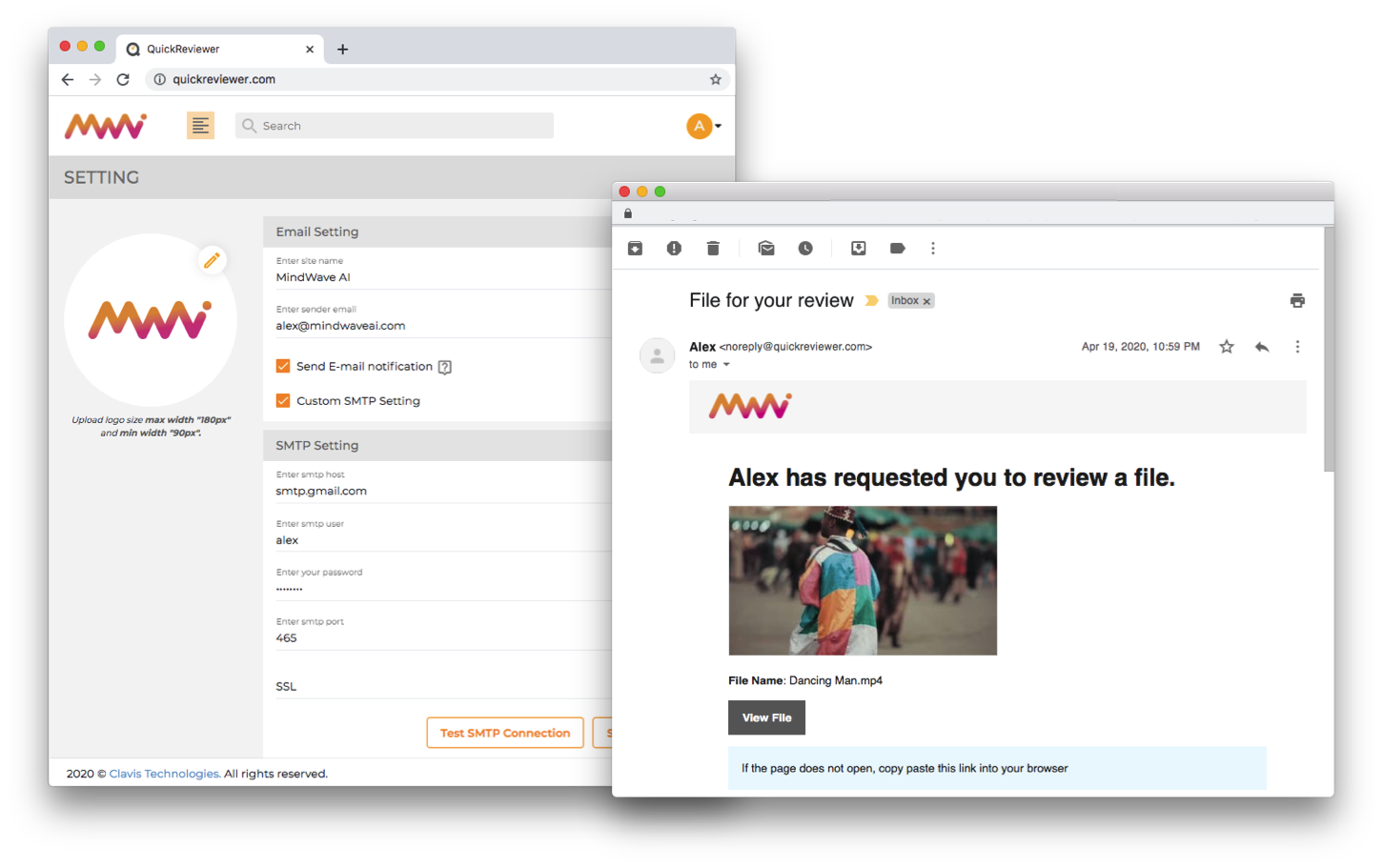 Keep your branding and white label projects with your logo, custom SMTP settings, and email design.
QuickReviewer also offers shared workspaces where you can invite an unlimited number of team members to upload and access files.
By uploading files into a shared workspace, you'll cut down on email exchanges and large file transfers, providing an easier, more convenient workspace for all.
You can create folders, drag-and-drop files, and share your files with unlimited reviewers.
Give reviewers a shareable link and control their access permissions (commenting or just viewing).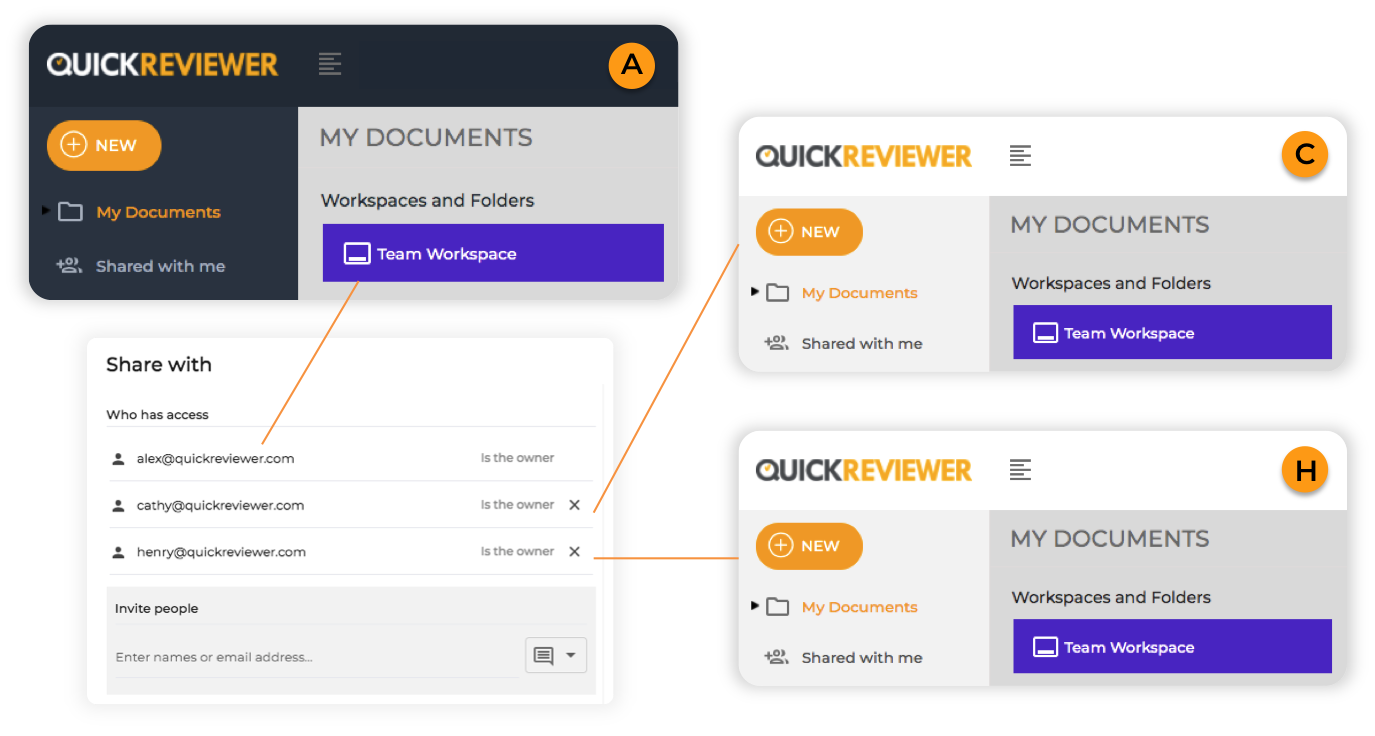 Eliminate the back-and-forth! Create shared workspaces where teams can access common storage.
Stop trying to keep track of feedback from multiple sources and different project versions (No, you were editing "Updated Banner_Revised_New - v.9" – there's a newer draft.)
With QuickReviewer, you can get better feedback and quicker approvals on all your video, PDF, HTML, and image projects.
With real-time commenting and shared workspaces, QuickReviewer unblocks the creative process and lets your masterpieces run free.
Get one year of access to QuickReviewer today!
P.S.
Learn how to use QuickReviewer like a pro by catching our training webinar replay here:
Webinar Replay
!
Plans & features
Deal terms & conditions
1 Year access to QuickReviewer Annual Power Plan

You must redeem your code within 60 days of purchase

1 Year of Power Plan updates

Please note: This deal is not stackable

Only for new QuickReviewer users who do not have existing accounts

Annual deals are not stackable with previous LTD deals
60 day money-back guarantee. Try it out for 2 months to make sure it's right for you!
QuickReviewer Annual
Better creative collaboration and faster approval for videos, PDFs, HTML, and images
60 day money-back guarantee. Try it out for 2 months to make sure it's right for you!
QuickReviewer Annual Power Plan

25 GB Storage

Collaborative review and approval

Video, PDF, HTML and image review

Create and share folders

Add multiple versions and compare

Unlimited reviews and comments

Mail groups

Custom emails

Shared workspaces

Status based workflow

Dropbox integration

White-label
Sign Up
All our deals are time-sensitive! Make sure you don't miss any of our awesome limited-time offers.