Switchboard
Lifetime Deal
Exclusively Available for AppSumo Plus Members
Switchboard
Exclusively Available for AppSumo Plus Members
This deal is unavailable (a bummer, we know). Don't miss a great deal again — drop your email to get all our latest tools!
60 day money-back guarantee. Try it out for 2 months to make sure it's right for you!
Extended Access to this deal is exclusively available to AppSumo Plus members for a limited time.
If you are not an AppSumo Plus member, you can join now and purchase this deal before Extended Access ends on April 1st.

Choosing the right livestream platform can be as painful as having to pick between that maple bacon donut or your "clean eating" kick. (Washing my hands before grabbing the donut = clean eating.)
You have your encoder and your production studio, and it's a given that you're going to multistream to your own social media channels.
If only you could get the maximum views you deserve by leveraging your friends' or network's social media platforms.
Have a seat at Switchboard.
Share your livestream videos to multiple social media channels with the click of a button
Alternative to: Splitstream, simulcasting via Vimeo, and cross-posting via Facebook
Easily create workflows and multiple inputs to get set up and livestream in minutes
Best for: Media teams, creators, and anyone looking to expand their social media reach with livestream content
Overview
Switchboard is a tool that allows you to easily livestream to multiple social media channels at once, plus tap into your network for maximum views.
Switchboard is compatible with both native and non-native real-time messaging protocol (RTMP) destinations for maximum reach.
You'll get integrations with over 10+ encoders and 30+ destinations to make sure you're not missing any portion of your audience.
With Switchboard's ability to support multiple input encoders, it's simple to manage and stream multiple events at the same time.
Imagine being able to oversee a fireside chat, town hall, and product launch, all from the same app.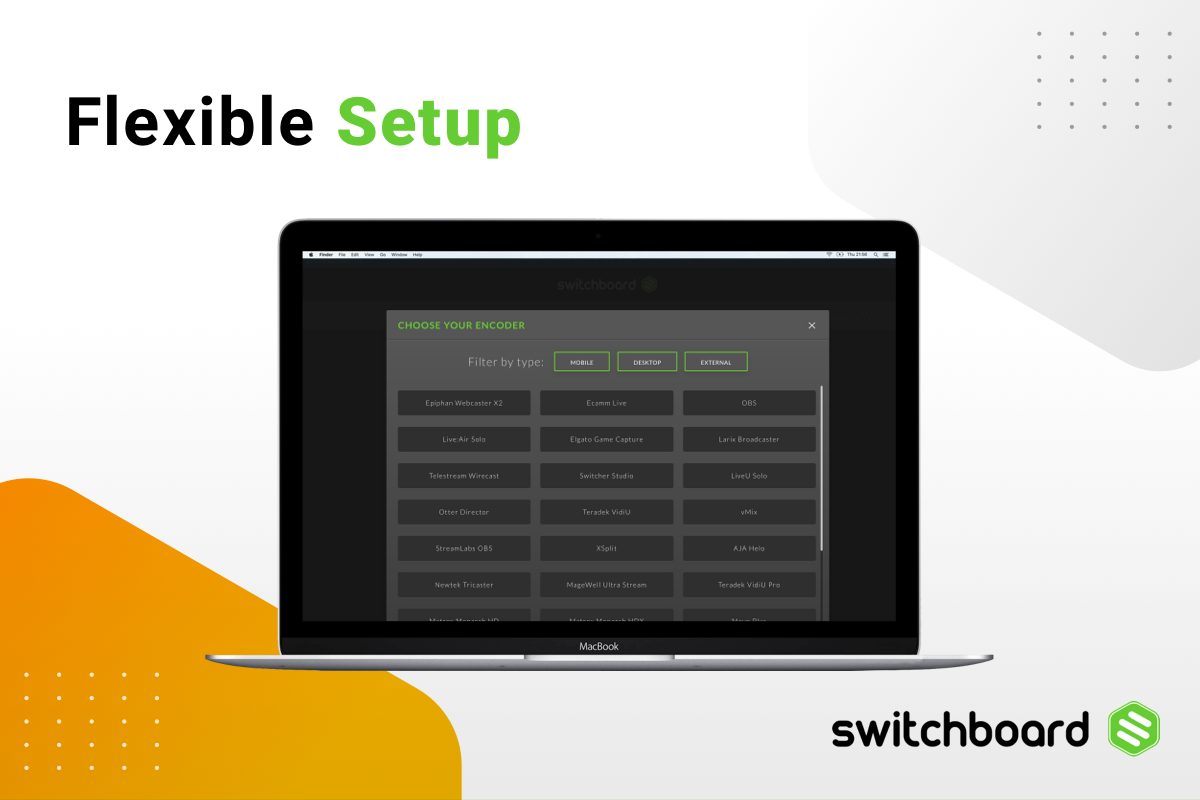 Simply set up your workflows with your preferred encoders and destinations, and you're ready to wow 'em.
Take advantage of all your social media channels with Switchboard.
You can simultaneously stream to multiple platforms like Facebook, YouTube, Twitch, and Twitter, to name a few.
While you may be streaming to several channels at once, that doesn't mean you can't customize the content for your audiences.
Add unique titles and descriptions for every streaming destination to maintain high presentation standards.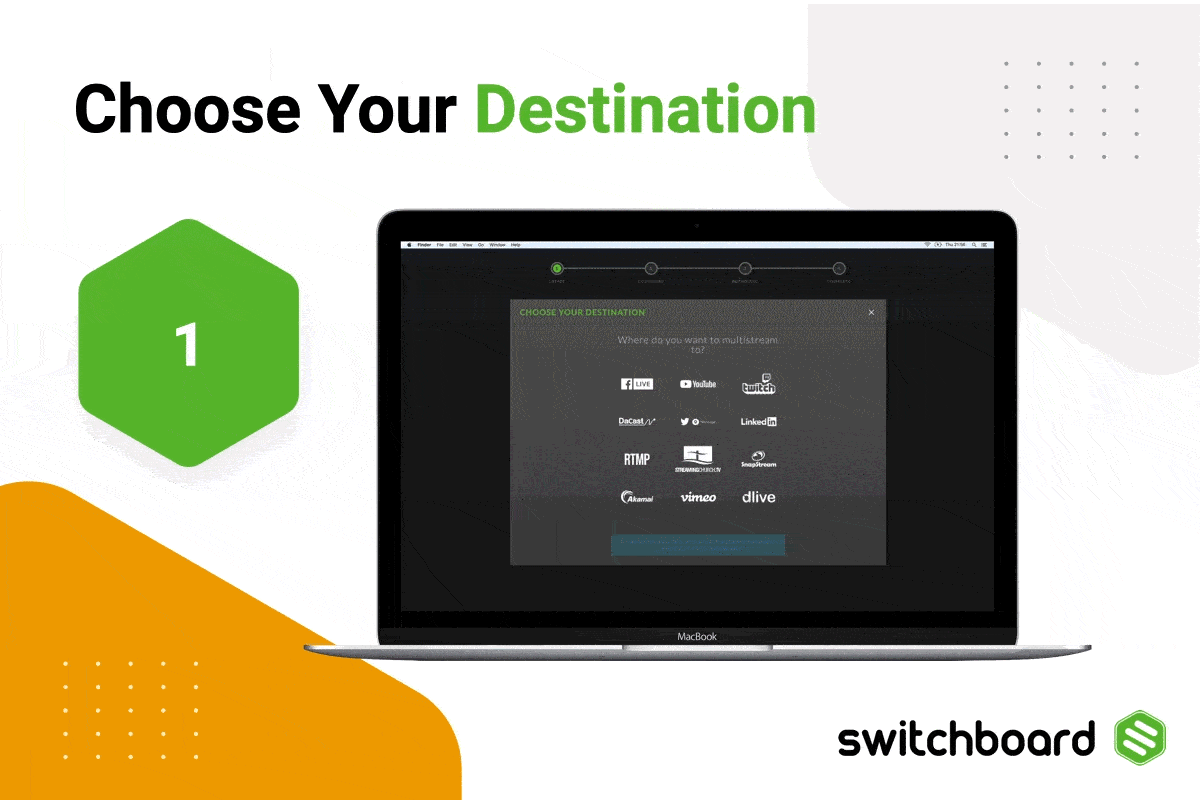 Easily customize the titles and descriptions for each streaming destination to match the audience.
With Switchboard, you'll be looking like a pro no matter which channel you're streaming to (or as professional as anyone on Twitch should look).
The tool is perfect for livestreams that run the gamut from sports games to pop culture reaction videos ("I Watched Season 2 of Too Hot to Handle So You Don't Have to").
In just a few clicks, you're ready to get your stream out to the right eyes—all of them.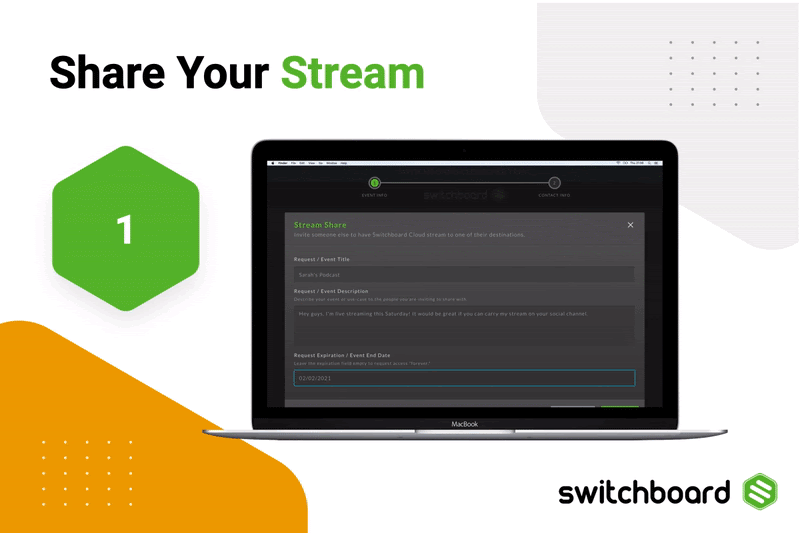 Get your livestream on multiple channels at the same time with just a few clicks!
You can even use the StreamShare feature to natively share live video to you and your friends' audiences.
The easy-to-use interface lets you invite your guests to carry your stream on their channels.
In minutes, you'll get your message to a wider audience with the same amount of effort it takes to put on a presentable shirt (so you're not streaming with mustard stains...again).
Multistreaming is one part of the equation, but with StreamShare, you're able to exponentially increase views by sharing your stream on your guests' channels.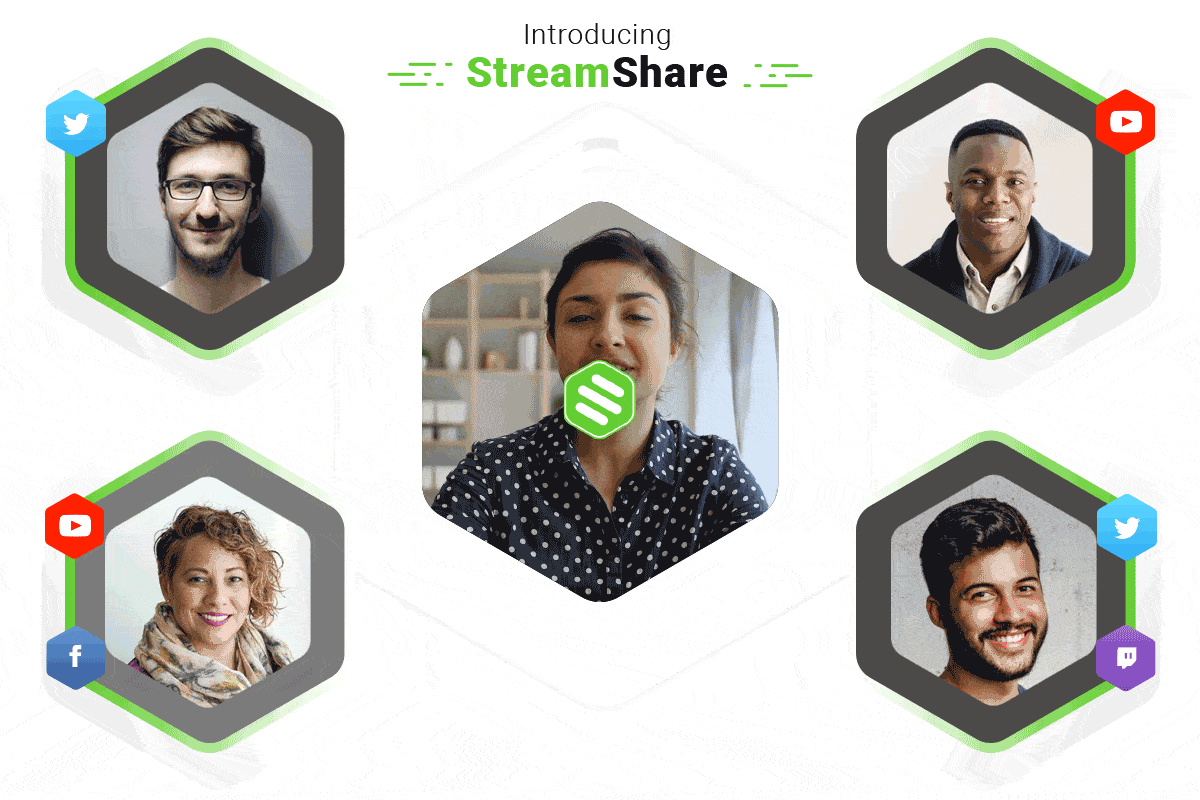 Use the StreamShare feature to maximize your viewership!
Livestreaming shouldn't be a binding commitment to a single social media channel (especially since we're all married to Facebook, anyway).
Switchboard gives you additional options, and now you don't even have to choose between them.
Get your content out to all of your followers on their preferred platform with simultaneous streaming that's a breeze to set up.
Get lifetime access to Switchboard today!
P.S.
Learn how to use Switchboard like a pro by catching our training webinar replay here:
Webinar Replay
!
Switchboard
Exclusively Available for AppSumo Plus Members
This deal is unavailable (a bummer, we know). Don't miss a great deal again — drop your email to get all our latest tools!
60 day money-back guarantee. Try it out for 2 months to make sure it's right for you!
Plans & features
Deal terms & conditions
Lifetime access to Switchboard Pro Plan

You must redeem your code(s) within 60 days of purchase

All future Pro Plan updates

Stack up to 5 codes

Only for new Switchboard users who do not have existing accounts
60 day money-back guarantee. Try it out for 2 months to make sure it's right for you!
Features included in all plans
StreamShare

Unlimited monthly streaming hours

10 Mbps bit rate

Email/chat support 9 am–5 pm EST

No Switchboard branding
Single

All features above included

3 users
5 simultaneous streaming destinations
1 encoder workflow input

Double

All features above included

5 users
10 simultaneous streaming destinations
2 encoder workflow input

Multiple

All features above included

7 users
15 simultaneous streaming destinations
3 encoder workflow input
StreamShare branded page
Sign Up
All our deals are time-sensitive! Make sure you don't miss any of our awesome limited-time offers.