XEmailVerify
Lifetime Deal
Bulk validate email lists to ensure deliverability and enhance digital marketing campaign reach
XEmailVerify
Bulk validate email lists to ensure deliverability and enhance digital marketing campaign reach
This deal is unavailable (a bummer, we know). Don't miss a great deal again — drop your email to get all our latest tools!
60 day money-back guarantee. Try it out for 2 months to make sure it's right for you!
In a perfect world, the people we emailed would always be real—even if they're on burner accounts. ("You're e-dating 'Rihanna' but you've never met? Yeah, let's go ahead and call Catfish.")
But when your emails keep getting sent to invalid or unused email addresses, the only one who gets hurt is you...and your click-through rate.
It's time to start sending emails with more confidence.
This is XEMAILVERIFY.
Scan email lists to verify addresses and separate out invalid ones using real-time email validation
Alternative to: NeverBounce and ZeroBounce
Use API integration with existing workflow tools, access 24/7 support, and ensure high deliverability rates
Best for: Email marketing companies looking for an easy way to scan and validate email addresses and IDs
Overview
XEMAILVERIFY is an email verification tool for scanning email lists that utilizes a variety of different checks to confirm emails for improved marketing efforts.
XEMAILVERIFY allows you to scan and clean up your email lists through verification tools, so you can drastically increase email analytics such as click-through rate and ROI.
Companies will be able to scan email lists using multiple validation check types to remove invalid emails.
You'll achieve higher deliverability rates, plus ensure the protection of your server's reputation by verifying addresses without sending out a single email.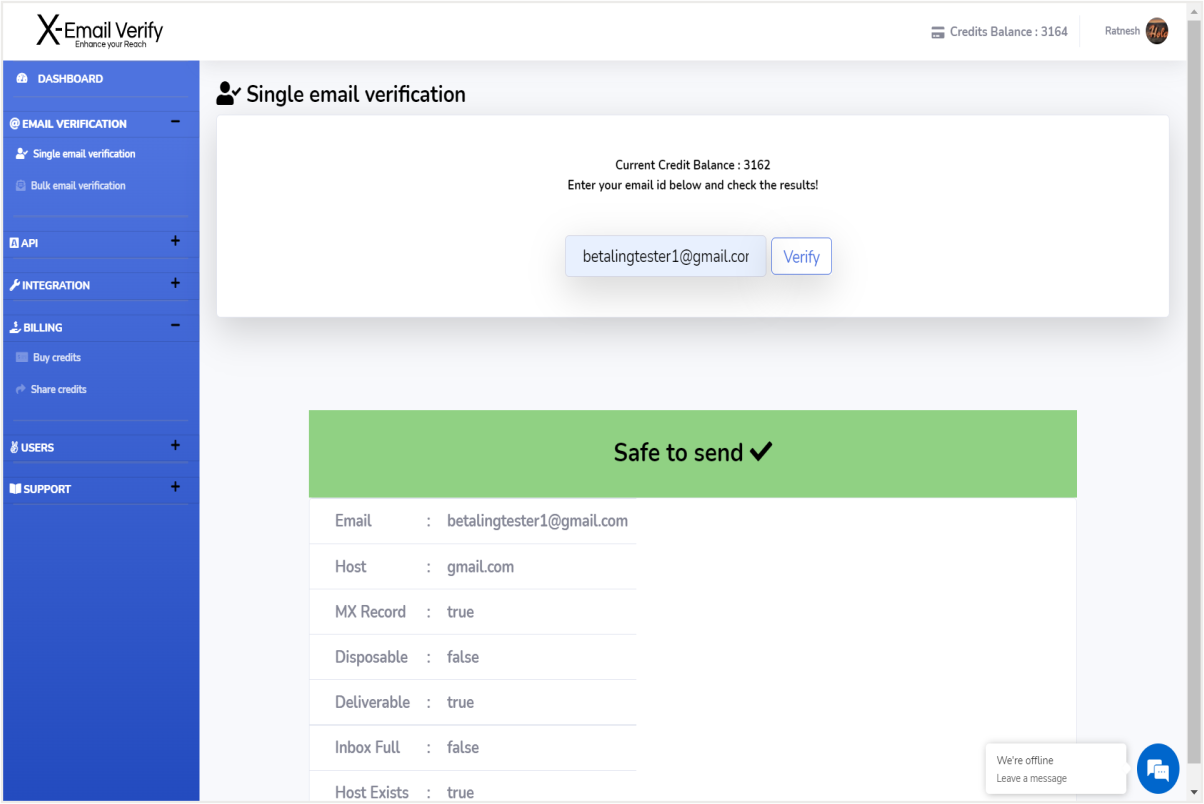 Check individual emails for validity and get automatic feedback on different inbox variables.
XEMAILVERIFY reads email addresses and processes email IDs using a programmed algorithm, conducting multiple checks at different protection levels to guarantee deliverability.
The application offers 100 free credit points per account and lets you download verified ID results of email lists upon completed verification.
You'll be able to see the insights of the valid emails, invalid emails, and catch-all emails, all of which can be viewed after verification.
View bulk verification summaries and see which portion of your email list is valid at a glance!
Email lists can be stored in many ways, but XEMAILVERIFY's bulk email verification is conveniently designed to read data in CSV, XLS, and TXT formats.
You can check emails on two different levels before results are displayed. The tool flags invalid emails while still providing domain and MX record data.
On top of that, XEMAILVERIFY is designed and preconfigured with a built-in blacklist monitor as well as a syntax error validator to check for unknown email formats.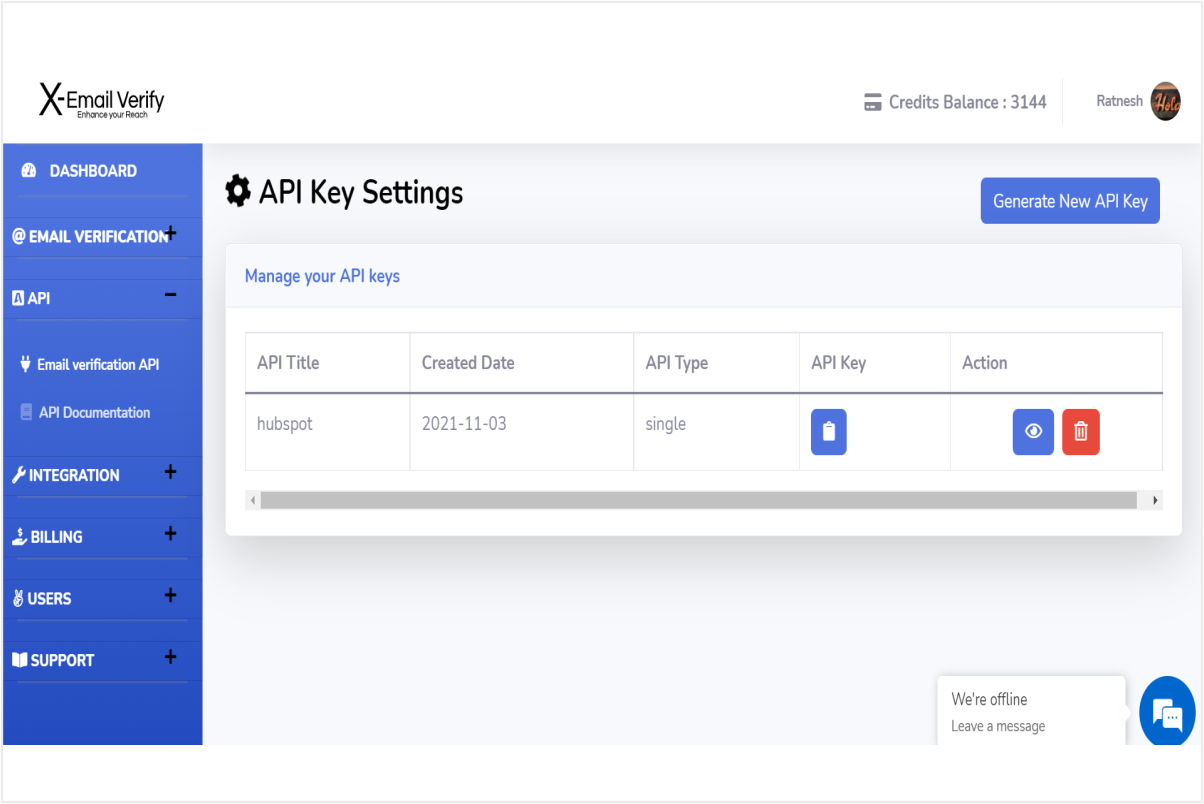 Generate and manage API keys for your email list data to connect it with integrated platforms.
XEMAILVERIFY can be easily integrated into any on-premise system as well as third-party cloud solutions.
The app connects with Mailchimp, SendGrid, Zapier, Google Sheets for simple sharing across your workflow's existing platforms.
You'll be able to accelerate your email validation with features that remove duplicate emails and invalid addresses before ever uploading lists to your third-party email solutions.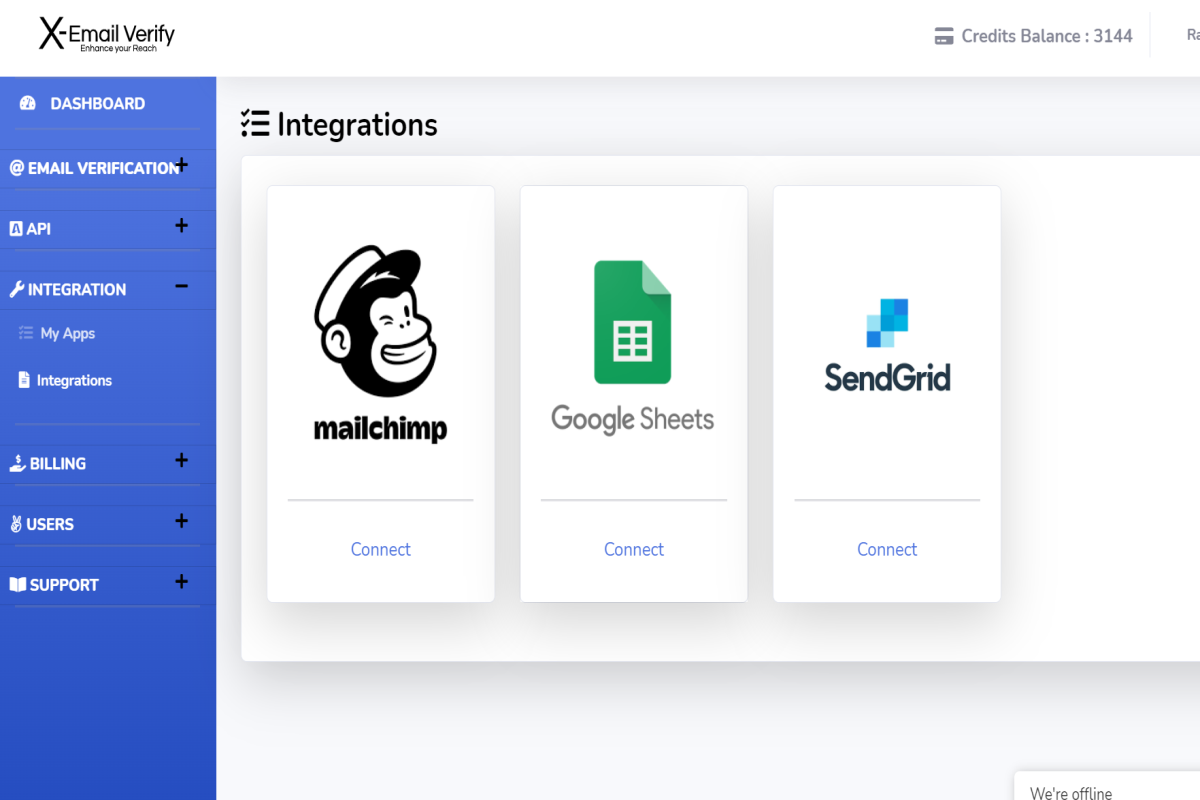 Integrate bulk email lists with your existing applications for a streamlined workflow.
When it comes to sending emails, an old adage rings true: check yo' self before you wreck yo' self. (Ice Cube was definitely referring to email marketing, right?)
XEMAILVERIFY handles one of the most essential parts of growing your business: confirming that your marketing actually reaches your target audience.
Make your campaigns heard with verified and valid emails.
Get lifetime access to XEMAILVERIFY today!
XEmailVerify
Bulk validate email lists to ensure deliverability and enhance digital marketing campaign reach
This deal is unavailable (a bummer, we know). Don't miss a great deal again — drop your email to get all our latest tools!
60 day money-back guarantee. Try it out for 2 months to make sure it's right for you!
Plans & features
Deal terms & conditions
Lifetime access to XEmailVerify

All future Pay as you go Plan updates

No codes, no stacking—just choose the plan that's right for you

You must activate your license within 60 days of purchase

Ability to upgrade/downgrade between 5 license tiers

GDPR compliant
60 day money-back guarantee. Try it out for 2 months to make sure it's right for you!
Features included in all plans
Single email verification

Bulk email verification

Real-time email validation API

Blacklist monitor

Syntax errors validator

Email duplicate remover

Hard bounce checker

Tool integrations: Zapier, SendGrid, and Mailchimp
License Tier 1

All features above included

1 million emails per year

License Tier 2

All features above included

2 million emails per year
5 sub-users per account

License Tier 3

All features above included

3 million emails per year
10 sub-users per account
From the founders
Caro_AppSumo
Partner Community Moderator
Sign Up
All our deals are time-sensitive! Make sure you don't miss any of our awesome limited-time offers.