Zonka Feedback is a multichannel customer feedback and survey platform that helps you collect, measure, and analyze customer satisfaction.
With Zonka Feedback, you're supercharging the way you collect feedback from customers and employees.
Create engaging surveys that can be fully customized to match your branding and get feedback on the spot with multichannel survey distribution.
With out-of-the-box reporting and a collaborative platform, you can easily measure results and share them with your team.
Create beautiful, custom surveys that help you capture customer feedback more effectively.
Zonka Feedback lets you create beautiful interactive surveys and feedback forms for your business.
Customize your survey themes to match your business's branding with colors, background images, logos, and more!
You can choose from over 40 survey questions, including comment boxes, Likert scales, and rating scales to find out what your customers really think. ("10/10, but want to see more of the owner's dog.")
Plus, the multilingual surveys and survey logic options let you create intuitive surveys to capture even more responses.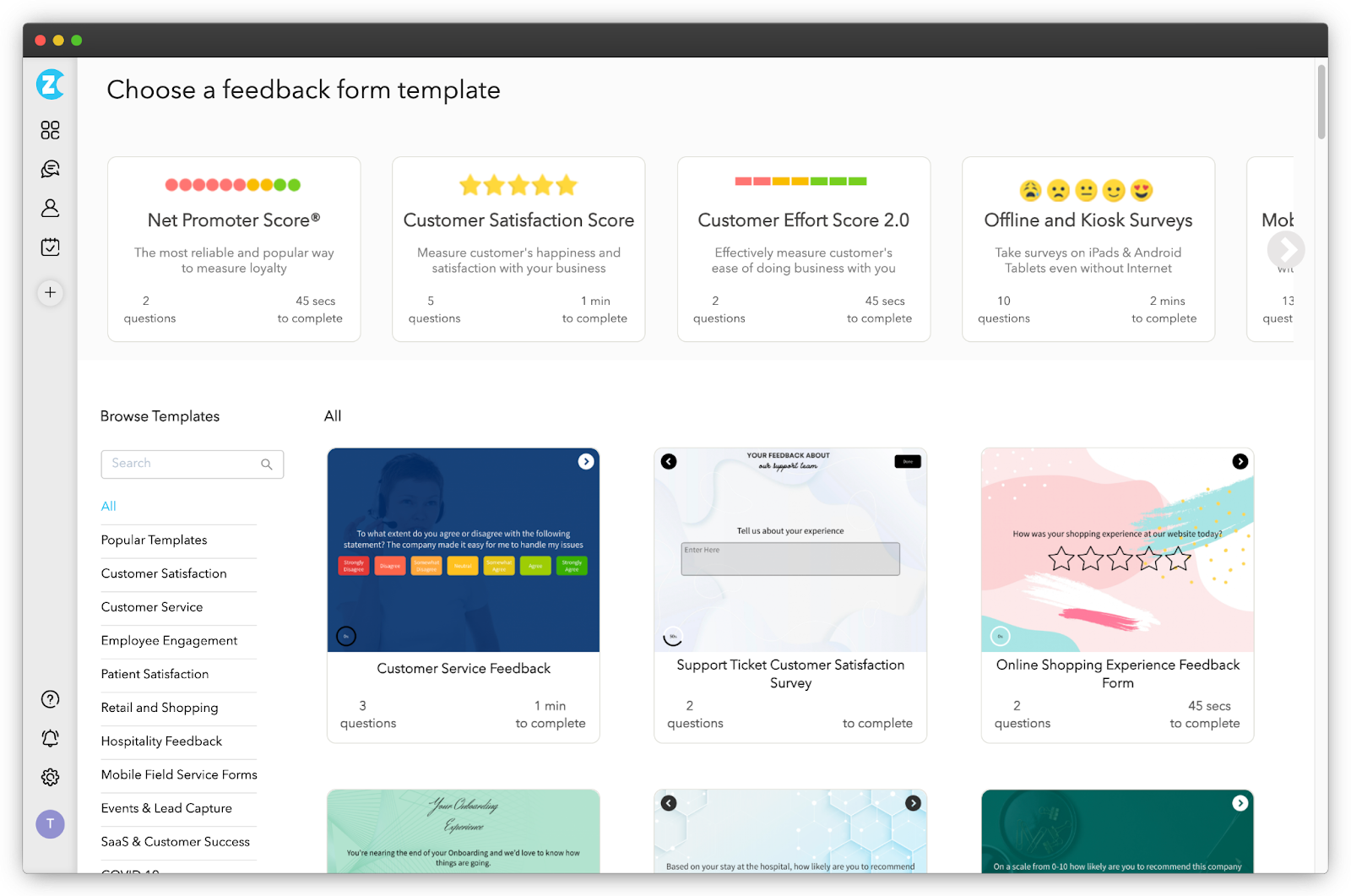 Choose from a wide variety of survey types and templates to get the customer feedback you need.
Reaching your customer at the right point in the sales funnel is key in getting great feedback and creating a better user experience.
But sometimes trying to reach your customer at the right time feels like a game of Where in the World is Carmen Sandiego? ("How hard could it be? Look at her giant hat!")
Zonka Feedback's multichannel platform makes it easy, with on-premise feedback options, email, SMS, embedded surveys, and more.
You can collect feedback on-site with touchscreen devices or even print QR codes on receipts and packaging to streamline the survey experience.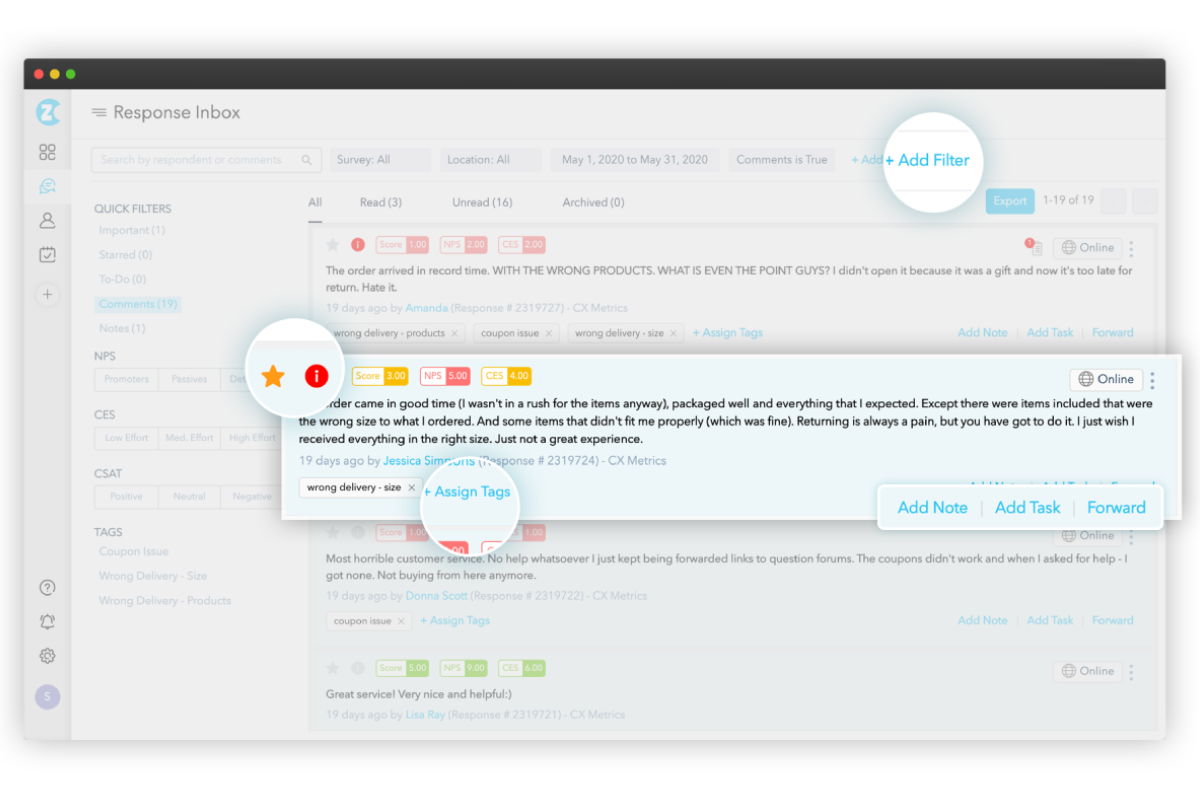 View feedback in real-time and assign tasks to your team with the collaborative response inbox.
Sifting through a bunch of survey responses can feel like trying to find the one Wonka bar with a Golden Ticket. ("Oh, now Grandpa Joe can get out of bed?")
Zonka Feedback gives you a collaborative, real-time response inbox for all your surveys to make feedback way more manageable.
Filter your survey responses, tag specific submissions, add notes, and assign tasks to your team.
With real-time, intuitive AI-driven reporting, you can get a breakdown of all your responses, scores, and comments to monitor how trends change over time.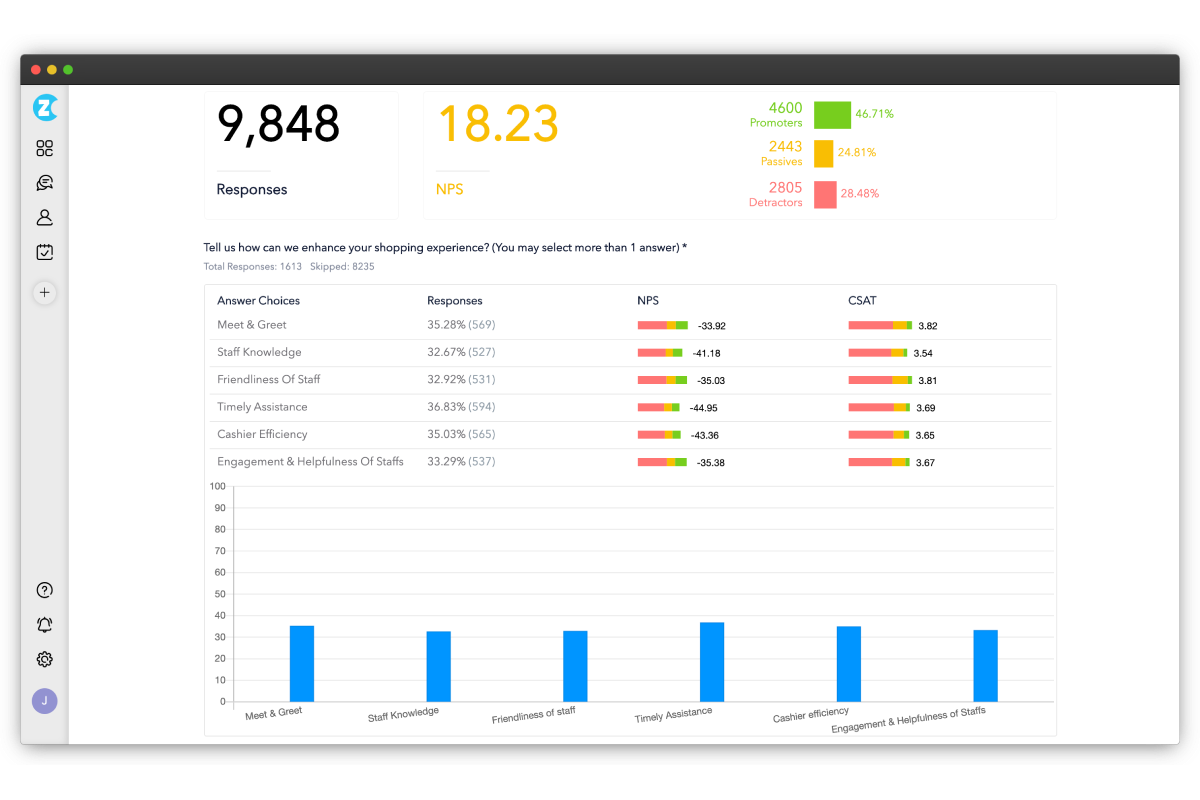 Get insights and in-depth analysis with intuitive graphs for all survey responses and CX metrics.
Zonka Feedback lets you connect to the tools you love, so you can get the most out of your time and create workflows that actually work for you! (No more cursing at the screen… )
Easily automate workflows using out-of-the-box integrations with Zapier, APIs, webhooks and more.
You can even create automations for sending surveys to customers, adding tickets to helpdesks, and syncing responses to your favorite platforms, so everything works together smoothly.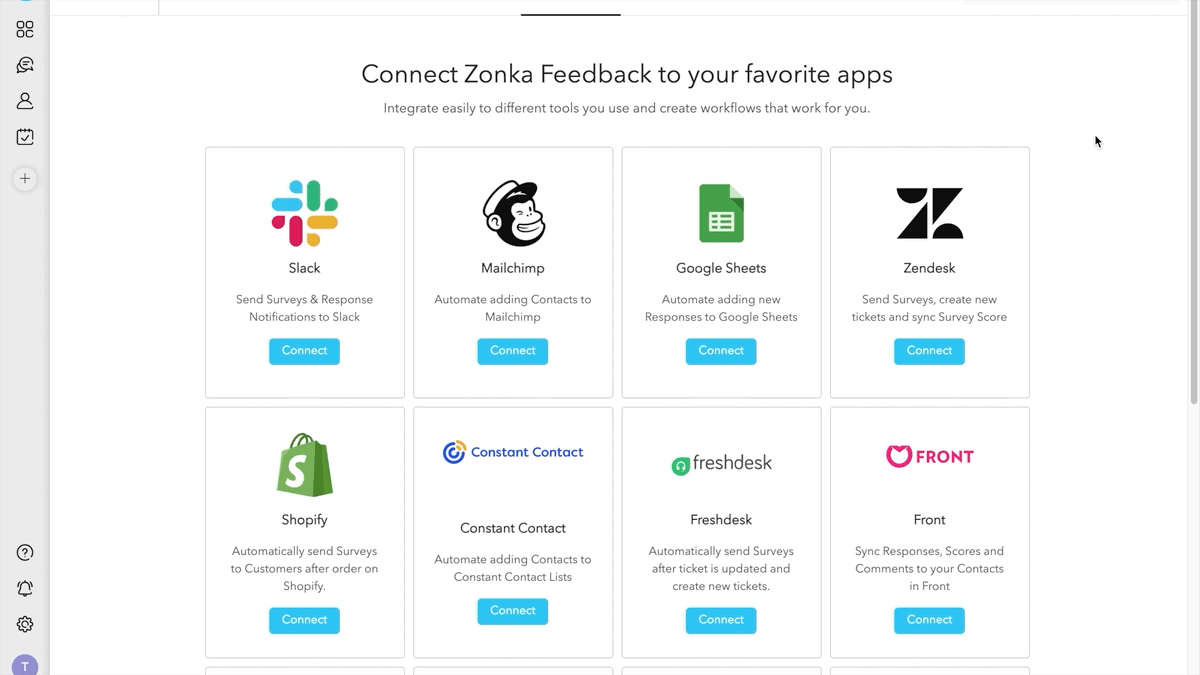 Connect Zonka Feedback to your favorite tools to quickly create workflows and automations.
Everyone wants happy customers, but it's not always easy to collect and analyze feedback. (Plus, bribing customers doesn't sit well with your accounting department.)
Stop using survey tactics that don't work and require a ton of manual labor to execute.
Zonka Feedback makes collecting feedback a breeze, so you know exactly how to become even better.
Get lifetime access to Zonka Feedback today!